Teotitlán del Valle, located about 15 miles from the city of Oaxaca, is world famous for the natural-died wool rugs woven there. Many of the families speak Zapotec at home and children learn Spanish in the schools. It is a traditional pueblo with few paved streets.

There are several good restaurants: Don Porfirio on the highway just east of the exit for Teotitlán on Carretera 190 is recently opened with a gorgeous interior and delicious food. It is owned by Jacobo's sister Adelina and her husband Victor. Jacobo's other sisters operate Tlamanalli, Avenida Juárez #39, it has a friendly staff and gracious atmosphere. The reigning cook is Abigail Mendoza Ruiz. It is open in the afternoons from 1 to 4 pm, and closed on Mondays and Thursdays. El Descanso, also on the main street at Juárez #51, is open every day and has simple fare. A new coffee house and restaurant is The Sacred Bean, owned by Ambrocio Gutierrez, opened in 2007 and is also on Avenida Benito Juárez at #49.

There is a bed and breakfast in town, Las Granadas, located on 2 de abril off of Avenida Benito Juárez.

if you can't come visit us, you might want to see Jacobo's sister Abigail Mendoza Ruíz demonstrating how to make Mole Negro by clicking here.
By clicking here you will find a good New York Times Article on Oaxaca.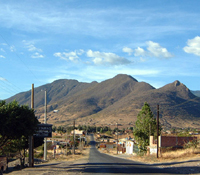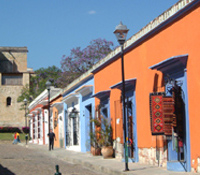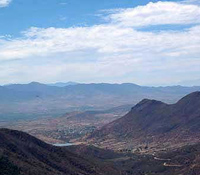 ---
---
The Beautiful Zapotec Town of Teotitlán del Valle, Outside Oaxaca City